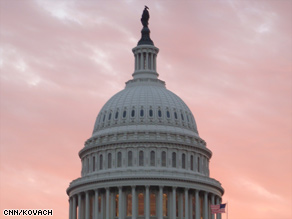 CNN: Attorney general collapses giving speech; he's alert in hospital
U.S. Attorney General Michael Mukasey collapsed while giving a speech Thursday at the Federalist Society dinner at the Marriott Wardman Park Hotel in Washington.
CNN: Obama aides say Clinton 'on track' for secretary of state job
President-elect Obama is on track to nominate Sen. Hillary Clinton as his secretary of state after Thanksgiving, three aides on Obama's transition team told CNN Thursday.
CNN: Obama's cell phone records breached
Records from a cell phone used by President-elect Obama were improperly breached, apparently by employees of the cell phone company, his transition team said Thursday.
CNN: Senate votes to extend jobless benefits
Responding to the worsening economic climate, the Senate voted overwhelmingly Thursday in favor of a measure to extend unemployment benefits by at least seven weeks in every state.
CNN: Federal judge orders release of 5 Guantanamo detainees
A federal judge ordered the release of five Guantanamo Bay detainees Thursday, saying the government failed to show that they were "enemy combatants."
CNN: Commentary: Washington getting ready for event of a lifetime
Is it just me or has everyone living within a 120-mile radius of the U.S. Capitol Building heard from his or her fifth cousin lately?
CNN: Bush thanks staffers and their families
During a midday appointment at the White House, it is a surprise to see a young boy in a blazer and tie, walking in the West Wing corridor just steps from the Oval Office and anxiously clutching a shiny new baseball.