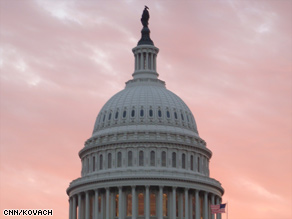 CNN: Attorney general collapses giving speech; he's alert in hospital
U.S. Attorney General Michael Mukasey collapsed while giving a speech Thursday at the Federalist Society dinner at the Marriott Wardman Park Hotel in Washington.
CNN: Obama aides say Clinton 'on track' for secretary of state job
President-elect Obama is on track to nominate Sen. Hillary Clinton as his secretary of state after Thanksgiving, three aides on Obama's transition team told CNN Thursday.
CNN: Obama's cell phone records breached
Records from a cell phone used by President-elect Obama were improperly breached, apparently by employees of the cell phone company, his transition team said Thursday.
CNN: Senate votes to extend jobless benefits
Responding to the worsening economic climate, the Senate voted overwhelmingly Thursday in favor of a measure to extend unemployment benefits by at least seven weeks in every state.
CNN: Federal judge orders release of 5 Guantanamo detainees
A federal judge ordered the release of five Guantanamo Bay detainees Thursday, saying the government failed to show that they were "enemy combatants."
CNN: Commentary: Washington getting ready for event of a lifetime
Is it just me or has everyone living within a 120-mile radius of the U.S. Capitol Building heard from his or her fifth cousin lately?
CNN: Bush thanks staffers and their families
During a midday appointment at the White House, it is a surprise to see a young boy in a blazer and tie, walking in the West Wing corridor just steps from the Oval Office and anxiously clutching a shiny new baseball.
CNN: Schneider: A sign of new politics?
What's the significance of Obama sending Rahm Emanuel to meet with Republican leaders of Congress?
CNN's Short List: Obama's secretary of commerce?
Cross one name off the short list of possible contenders to be the next commerce secretary in the incoming administration. Chicago businesswoman Penny Pritzker, who headed the unprecedented fundraising operation of President-elect Barack Obama's campaign, told CNN Thursday she is not in the running for the key post.
CNN: Dems to Big Three: Show us a plan
The auto industry has until December 2 to fashion a plan that will provide a path to "accountability and viability," Senate Majority Leader Harry Reid said Thursday.
CNN: Daschle setting healthcare goals
Former Senate Majority Leader Tom Daschle told CNN Thursday that he is excited about the possibility of heading Health and Human Services in an Obama administration where he would be a point person in helping to reform the nation's healthcare system.
CNN: Poll: GOP image goes from bad to worse
The Republican Party has hit a new low.
Washington Post: Obama Team Springs Leaks
Barack Obama was famously able to impose discipline and control over his presidential campaign, but it didn't take long for him to discover that running a transition is something quite different.
WSJ: Former Pilots-Union Chief Has Inside Track to Lead FAA
A onetime union leader is a top contender to head the Federal Aviation Administration, people close to President-elect Barack Obama's transition team said, at a time when smooth labor-management relations will be critical to the agency's modernization plans.
NYT: At Last, Bernstein Meets Deep Throat
During all the months that Carl Bernstein and Bob Woodward spent cracking the Watergate scandal, and in all the years since, Mr. Bernstein had never met the reporters' most famous source, the man known as Deep Throat.
Until now.
Washington Post: If Clinton's the Pick, Where Does That Leave Richardson?
As Hillary Rodham Clinton inches toward becoming secretary of state, Latino advocates are asking: Whither Bill Richardson?