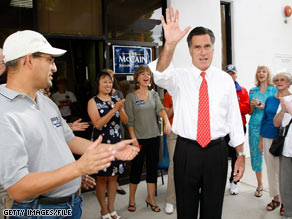 Mitt Romney is set to campaign for fellow Republican Georgia Sen. Saxby Chambliss Friday.
(CNN) - Add Mitt Romney to the list of big name surrogates who are making campaign cameos in the last remaining senate election this year.
The former Massachusetts Governor and former Republican presidential candidate teams up today with Saxby Chambliss at campaign events in Atlanta and Savannah.
Chambliss is the freshman Republican Senator from Georgia who is fighting to keep his seat. He faces a runoff election Tuesday December 2nd against Jim Martin, a former state lawmaker in Georgia.
Chambliss won a plurality of the vote 17 days ago on Election Day, but Georgia state law calls for the winner to grab 50 percent plus one vote. Due to the inclusion of a third party candidate, Chambliss fell just shy of that threshold, forcing a runoff contest.
Romney is the latest former GOP presidential candidate to stump with Chambliss. Last week Sen. John McCain returned to the trail to campaign with Chambliss, just 9 days after losing the presidential election to Obama. On Sunday, former Arkansas Governor Mike Huckabee, who ran for the Republican presidential nomination before dropping out in March and backing McCain, campaigned with Chambliss. Like Huckabee, Romney also ran for the GOP presidential nomination before ending his bid in February and backing McCain. Both men could make another stab at presidential politics in 2012.
Romney's doing more than just campaigning for Chambliss. A spokesman for Romney earlier this week announced that Romney is contributing $5,000, through his Free and Strong American PAC, to Chambliss to help with the runoff election. Romney's PAC donated $2,300 to Chambliss earlier this fall.
Martin is also getting some major league help. Wednesday former President Bill Clinton campaigned with Martin in Atlanta. And this weekend former Vice President Al Gore teams up with Martin.
Do these big name surrogates make a difference?
"Generally they can help boost turnout, because of all the media attention. Turnout in a runoff election is often very low compared to a presidential election and each side needs to get as many of their voters to the polls as possible," says CNN Senior Political Analyst Bill Schneider.
Democrats have so far picked up seven Senate seats in this year's election, with the Republican seats in Georgia and Minnesota still undecided. In Minnesota, freshman GOP Senator Norm Coleman topped his Democratic challenger, Al Franken, by just 215 votes, triggering an automatic recount which will extend into December.
If the Democrats take both remaining contests, they'll reach their pre-election goal of controlling 60 Senate seats, which would be a filibuster proof majority. A filibuster is a move by the minority party in the Senate that basically brings the chamber to a standstill by blocking votes on legislation.