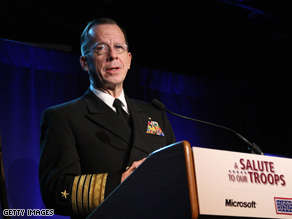 Obama and Mullen met Friday in Chicago.
WASHINGTON (CNN) - President-elect Barack Obama and Adm. Michael Mullen, chairman of the Joint Chiefs of Staff, held a private closed door meeting in Chicago Friday for 45 minutes, according to a U.S. military official with direct knowledge of the talks.
The meeting was a "get acquainted session," the official said.
President George Bush personally approved the meeting, and it was also "encouraged" by Defense Secretary Robert Gates, the official said. The approval was not required, but was given because of the sensitivity of the sitting president's advisers giving advice to a president not yet in office.
Obama extended the invitation to Mullen.
The meeting comes as Mullen is now reviewing a formal "request for forces" from commanders in the field for 15,000 to 20,000 additional troops to send to Afghanistan during the opening months of the Obama administration. It also comes as the president-elect has made statements about his desire to find terror mastermind Osama bin Laden.
Afghan President Hamid Karzai said Obama spoke to him by phone Saturday and assured him that the United States would send more aid and pay more attention to his war-torn country, according to
Karzai's office, but Obama aides declined to confirm the call had included specific promises.