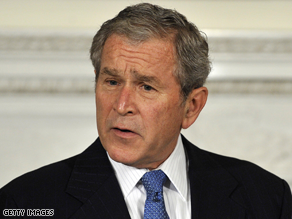 President Bush may issue more pardons before his term ends.
WASHINGTON (CNN) - Who might receive the ultimate in White House holiday gifts - a presidential grant of clemency - is one of the hottest Washington guessing games today.
The wait for 16 applicants is over. Fourteen people received a pardon from President George Bush and the sentences of two others were commuted, the Justice Department announced Monday. A commutation reduces a convict's prison term, but the conviction remains on the person's record.
Among those receiving commutations was rap singer John Forte, who was charged with intent to distribute five kilograms or more of cocaine. He was sentenced to 168 months in prison and five years supervised release. His prison term will now end on Dec. 22 of this year, and his release will still be supervised.
Those receiving pardons were not nationally-known and included persons convicted of marijuana use, unauthorized acquisition of food stamps and bank embezzlement.
Still unknown is how many more pardons and commutations the President may grant before he leaves office.
"The President carefully considered recommendations for pardons and commutations on a case-by-case basis and made his determinations. He will continue to review clemency requests," Assistant White House Press Secretary Carlton Carroll said.
Among the many who have applied are former Rep. Randall "Duke" Cunningham, Republican from California, who was convicted of receiving bribes, publishing executive Conrad Black, who was found guilty of fraud and John Walker Lindh, who was given a 20 year sentence after pleading guilty to supporting terrorists in Afghanistan.
Not including the ones granted on Monday, this administration has given 157 pardons and 6 commutations - far fewer than his predecessors considering this president has served two terms.
While the President has the power to grant clemency to anyone he desires, the application process is very detailed and usually pardons are restricted to those who meet several criteria, including having served five years.
The most controversial of those Bush administration clemency decisions was the commutation in July 2007 of former Vice Presidential Chief of Staff Lewis "Scooter" Libby after he was found guilty of lying about the leaking of the name of CIA operative Valerie Plame to the media. Libby did not have to
serve any prison time.
There are about 475 pardon requests and almost 1,600 commutation applications still outstanding, according to Justice Department statistics.
–CNN's White House Correspondent Elaine Quijano and Terry Frieden contributed
to this story.