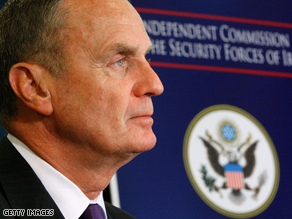 Jones was named Obama's pick for national security advisor Monday.
WASHINGTON (CNN) - The new National Security advisor, Gen. Jim Jones, says the challenge he will face in working with high-profile Cabinet members - including the new secretary of state, Sen. Hillary Clinton, and Secretary of Defense Robert Gates - will be to achieve consensus among the disparate members of President-elect Barack Obama's national security team.
In taking the job and in the name of consensus, Jones also had to temper his own opinion on withdrawing from Iraq.
In an interview with CNN on Monday, Jones said he needs to ensure the president-elect's vision is achieved.
"At the end of the day, (on) the major issues, he will make the decision and everyone will salute smartly and carry it out," Jones said in a phone interview soon after the official announcement in Chicago of Obama's national security team. "I think the national security advisor can make certain that the president's priorities are clearly understood and articulated and carried out so that we actually arrive to some conclusion that is well understood and well supported."
Jones himself was in disagreement with Obama about the senator's proposal to withdraw troops from
Iraq within 16 months of taking office as president.
In a 2007 hearing, Jones was asked by Arizona Sen. John McCain about a time frame for withdrawal.
"I think deadlines can work against us. And I think a deadline of this magnitude would be against our national interest," Jones said in testifying to the Senate Armed Services Committee.
But Jones said that the recent Status of Forces Agreement (SOFA) with the Iraqi government diminished that difference of opinion.
"We have talked about it privately," Jones said. "The new SOFA agreement, as the president-elect explained this morning, gives us a pathway to work in. So I don't know of anything that would put us at odds."
Jones said his role as national security advisor will be to bring together all the different elements of national security so that the president "can make an informed decision based on the input from all elements that should be involved in the decision."
"I do believe that we are looking at a different sort of national security approach. It is much more comprehensive. ... So we are going to have to be more familiar with not just (Defense Department) issues and state issues, but also with outside energy issues and figure out how you coordinate this thing," he said.
"If it takes some articulation, I am certainly happy to do it. But my role, my goal, is to be as supportive as I can and see how that works out."
Jones' decision to once again enter public service came after talking it over with his family over the long holiday weekend.
"I think it is really important to be able to respond in the affirmative if you are asked to serve," he said. "Once I got my family organized and talked about it over Thanksgiving. ... I received their encouragement and support."
- CNN's Adam Levine contributed to this report