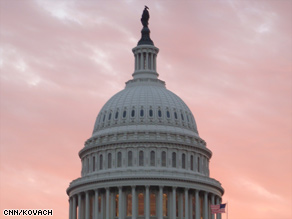 CNN: Clinton wants to be part of Obama's 'exciting adventure'
Sen. Hillary Clinton decided to join her one-time rival's team because she wanted to be part of the "greatest adventure of our century," she said Monday after President-elect Barack Obama named her as his nominee for secretary of state.
CNN: Palin makes a Peach State sweep for GOP senator
The Alaska governor and former Republican vice presidential nominee was back on the campaign trail Monday, teaming up with Sen. Saxby Chambliss at four campaign events in Georgia, the last full day of campaigning before Tuesday's Senate runoff election in the state.
CNN: Commentary: How U.S. should respond to Mumbai attacks
A captured suspect in the Mumbai attacks has told police that he is Pakistani, Indian officials say. CNN's sister station, CNN-IBN, reports that the alleged terrorist said he was trained by Lashkar-e-Tayyiba, a Pakistan-based terror group that opposes India over the disputed Kashmir region.
CNN: Limbaugh calls Obama's selection of Clinton 'a brilliant stroke'
Rush Limbaugh seems to have given Hillary Clinton his stamp of approval for the second time this year.
CNN: Gen. Jim Jones talks about achieving consensus
The new National Security advisor, Gen. Jim Jones, says the challenge he will face in working with high-profile Cabinet members — including the new secretary of state, Sen. Hillary Clinton, and Secretary of Defense Robert Gates — will be to achieve consensus among the disparate members of President-elect Barack Obama's national security team.
CNN: A prospective nominee, Clinton steps up calls to Capitol Hill
Sen. Hillary Clinton touched down in Chicago Monday and started working the phones – even before the official announcement she'd been nominated as Secretary of State — to inform key figures of the pending announcement, and tell them she looks forward to confirmation and working with them in the future, according to a source in Clinton's Senate office.
FULL POST