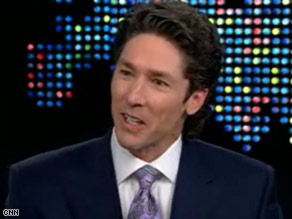 Osteen says he thinks Obama is 'great.'
(CNN) - Mega-preacher and best-selling author Joel Osteen is putting his faith in Barack Obama.
Asked his thoughts on the president-elect, Osteen said, "I think he's great."
"I think he's going to be a great president. He seems brilliant to me and just, I believe God puts the right people in office, so we're praying for him and just believing that God will give him wisdom and strength," Osteen said on CNN's "Larry King Live."
Osteen is the senior pastor for Lakewood Church in Houston, Texas. The church is one of the largest and fastest growing in the United States.
Shortly before the presidential election, Osteen told CNN he doesn't think it is right to preach politics from the pulpit.
"You know, people have different views, and they're just as passionate. They love God just as much. And so, I would just encourage … just get out there and vote. But we don't feel like it's our place to tell people how to vote. Just search their own heart," he said.