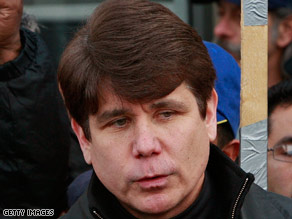 Illinois Gov. Rod Blagojevich is accused of scheming to sell Barack Obama's Senate seat to the highest bidder.
WASHINGTON (CNN) - Illinois state politics read more like a script from "The Sopranos" than a page out of the history books.
On Tuesday, Illinois Gov. Rod Blagojevich, a Democrat, and his chief of staff, John Harris, were arrested on federal corruption charges involving an alleged pay-for-play scheme to award Barack Obama's Senate seat to the highest bidder - among other accusations.
Each was charged with a count of conspiracy to commit mail and wire fraud and a count of solicitation of bribery, authorities said. If convicted, the two could spend a maximum of 30 years in prison.
U.S. Attorney Patrick Fitzgerald called Blagojevich's actions a "political crime spree" and said his behavior would make Abraham Lincoln "roll over in his grave."
Lincoln, after all, is one of the state's most famous figures, having served as a congressman and later as president.
The FBI special agent in charge of the case, Robert Grant, went so far as to say that "if [Illinois] isn't the most corrupt state in the United States, it's certainly one hell of a competitor." Video Watch more on the complaints against the Illinois governor »
But accusations of corruption like those against Blagojevich are nothing new to Illinois.
"Corruption is in the DNA of this state," said CNN contributor and Chicago resident Roland Martin. "The voters in this state, when I talk to people, since I have been here, they're pretty much like, 'You know what? This is what we expect.' "