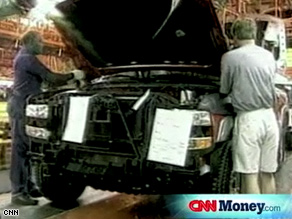 A bailout deal collapsed late last night.
NEW YORK (CNNMoney.com) - The future of the U.S. auto industry was in doubt Friday morning after a proposal for $14 billion in federal loans died in a late night Senate vote.
The Senate voted 52-35 to bring the measure for a vote - short of the 60 votes needed to advance the legislation. The failure followed the collapse of negotiations between Senate Democrats and Republicans seeking a compromise that both parties, as well as the companies and the United Auto Workers union, could accept.
The dramatic late-night developments could doom General Motors to a bankruptcy and closure in the coming weeks, with Chrysler LLC potentially following close behind.