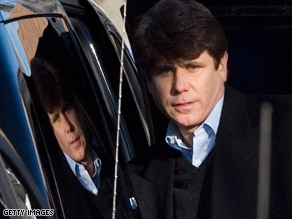 Blagojevich was arrested earlier this week.
(CNN) - Illinois Attorney General Lisa Madigan has filed a motion with the state Supreme Court about Gov. Rod Blagojevich's "inability" to do his job, Madigan spokeswoman Robin Ziegler said Friday.
Madigan had said Thursday that stepping down is the "right thing" for Blagojevich to do.
She added, "If he fails to, the two other options are obviously the Legislature moving forward on impeachment, or I have the opportunity to actually go to our Illinois Supreme Court and ask them to declare basically that our governor is unable to serve," she said.
In that case, Lt. Gov. Pat Quinn would become acting governor, she said.