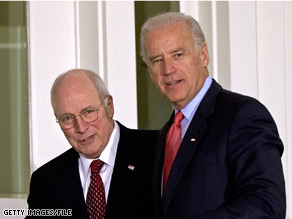 Vice President Cheney had some advice for President-elect Obama's Chief of Staff Rahm Emanuel.
WASHINGTON (CNN) - Vice President Dick Cheney had some blunt - and humorous - advice for incoming White House Chief of Staff Rahm Emanuel at a private breakfast earlier this month, CNN has learned.
"The best thing you can do is keep your VP under control," Cheney told Emanuel, according to three sources familiar with the White House meeting that had previously not been disclosed publicly.
One of the sources, who was not authorized to speak publicly about the private meeting, said the room broke up in laughter because of Cheney's reputation for being a hard-charging vice president.
The meeting was called by current White House Chief of Staff Josh Bolten, who decided to bring together 13 of his predecessors in the top job from both parties to try to offer Emanuel some bipartisan advice.
Among the attendees were Cheney and former Defense Secretary Donald Rumsfeld, each of whom served as chief of staff to President Gerald Ford. Other attendees included former Clinton chiefs John Podesta and Leon Panetta.
The sources familiar with the meeting told CNN that Rumsfeld advised Emanuel not to think he's indispensable, and told him that since it's a back-breaking job, he needs to identify his successor early. Rumsfeld's successor as Ford's chief of staff was Cheney.