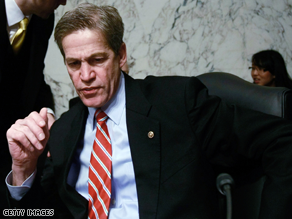 Coleman has hired a defense attorney.
ST. PAUL, Minnesota (CNN) - The attorney hired on behalf of U.S. Sen. Norm Coleman said Tuesday that recent allegations facing the Minnesota Republican are "inherently suspect," adding he'll "put them to rest."
Two lawsuits–one filed in Delaware, the other in Texas–allege Coleman accepted approximately $75,000 from wealthy businessman and supporter Nasser Kazeminy. Plaintiffs in the suit accuse Kazeminy of funneling money to Coleman's wife, Laurie Coleman, in order to get it to the senator because, in Kazeminy's words according to documents, "U.S. senators don't make [expletive deleted]."
In a phone interview Tuesday afternoon, Minneapolis-based attorney Doug Kelley told CNN that he wasn't going to comment on specific facts of the case at this point, but said he was skeptical of the accusations.
"I do believe that these charges will not be proven," Kelley said.
"I think any time allegations such as this are raised a week before a hotly contested election they're inherently suspect," he continued. The lawsuits were filed in October.
"So the senator has asked me to get to the bottom of these allegations quickly on his behalf and to cooperate with the authorities in order to put this to rest," Kelley said.
Though Kelley said the senator has not been contacted by the Federal Bureau of Investigation, numerous media reports have indicated an investigation is imminent. Spokespersons with the FBI would neither confirm nor deny an investigation.
UPDATE: Sen. Coleman's senate campaign will cover the cost of all the senator's legal fees. In a statement, spokesman Luke Friedrich said, "We intend to have any legal fees related to what we believe to be a politically inspired legal action to be covered by the Senator's campaign. We will be seeking the necessary approvals at the proper time to ensure that this is done in strict accordance with all appropriate laws and rules."
The senator's wife, Laurie Coleman, has also hired her own lawyer. However, Friedrich said any legal fees incurred by her will be "personally handled by the senator and Mrs. Coleman."