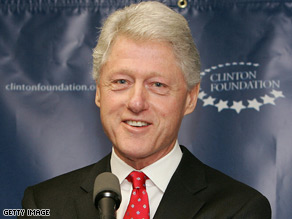 Former President Bill Clinton released the list of donors to his foundation.
(CNN) - Former President Bill Clinton Thursday published the long-demanded list of donors to his foundation, which included donations in the $10 million to $25 million range from the Kingdom of Saudi Arabia, the Bill and Melinda Gates Foundation, and real estate mogul Stephen L. Bing, a personal friend of Clinton's.
The Clintons came under intense pressure during Hillary Clinton's campaign for the Democratic presidential nomination to release the names of donors to both the Foundation and to the Clinton presidential library in Arkansas.
Bill Clinton agreed to release the list of donors to his foundation in order to help clear the way for his wife to become secretary of state in President-elect Barack Obama's administration.
Click here to go to the Foundation's website for the full list.