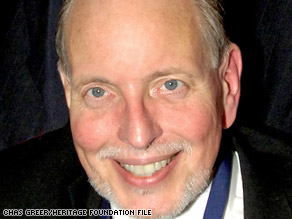 Conservative activist Paul Weyrich helped found the Heritage Foundation.
(CNN) - Conservative activist Paul Weyrich died this morning, according to the Heritage Foundation.
Weyrich, who was president and CEO of the Free Congress Foundation, helped found the Heritage Foundation and the Moral Majority.
"Paul M. Weyrich, chairman and CEO of the Free Congress Foundation and first president of The Heritage Foundation, died this morning around 1 a.m.," the group said in an e-mail to members Thursday. "He was 66 years old. Weyrich was a good friend to many of us at Heritage, a true leader and a man of unbending principle. He won Heritage's prestigious Clare Boothe Luce Award in 2005. Weyrich will be deeply missed. Our thoughts and prayers are with his family, including son Steve, who currently works at Heritage."
Weyrich's death comes the same year as those of movement icons William Buckley, founder of the National Review, and evangelical leader Jerry Falwell.
He backed Republican presidential candidate John McCain this year, despite an earlier vow that he would vote for a third-party candidate if the Arizona senator captured the party's nomination. He also reversed course on former Massachusetts Gov. Mitt Romney, at first strongly supporting his presidential bid, then joining other conservatives in calling him an unacceptable vice presidential pick for McCain.