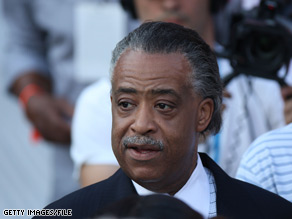 Caroline Kennedy had lunch Thursday in Harlem with activist Al Sharpton.
(CNN) - Caroline Kennedy spoke publicly about her desire to fill Hillary Clinton's New York Senate seat for a second consecutive day Thursday, meeting with the Rev. Al Sharpton for lunch in Harlem.
The activist praised Kennedy as a "unique candidate," but would not say whether he supports her Senate bid. "I will trust the government's judgment to decide what's best for the state, he told reporters. "I won't get into that."
Speaking after the meeting, Kennedy - who largely steered clear of partisan politics until this year - described herself as "a Kennedy Democrat, a Clinton Democrat, Chuck Schumer, Barack Obama - I mean, these are all leaders whose values I share, and I feel like those are the kinds of values I would bring to this position."
Sharpton and Kennedy met today in the same restaurant and sat at the same table where the activist met with Barack Obama during a presidential stop earlier this year.
New York Governor David Paterson will be appointing Clinton's successor when Clinton leaves to serve as Obama's secretary of state.
–CNN Radio Correspondent Steve Kastenbaum contributed to this report