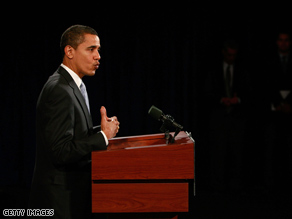 President-elect Obama defended his record on gay rights Thursday amid unhappiness by some liberal groups over Pastor Rick Warren's role in the upcoming inauguration.
(CNN) - President-elect Barack Obama on Thursday defended his pick of evangelical pastor Rick Warren to deliver the invocation at his inauguration next month as one of "a wide range of viewpoints that are presented."
"And that's how it should be, because that's what America is about," Obama said responding to a question at a news conference about his and Warren's differences on social issues. "That's part of the magic of this country is that we are diverse and noisy and opinionated."
Liberal groups and gay rights proponents had criticized the president-elect on Wednesday for choosing Warren, who opposes same-sex marriage and abortion rights.
Those socially conservative stances put him at odds with many in Obama's Democratic Party, especially the party's most liberal wing.
"[It's] shrewd politics, but if anyone is under any illusion that Obama is interested in advancing gay equality, they should probably sober up now," Andrew Sullivan wrote on the Atlantic Web site Wednesday.
Obama in the news conference also defended his record on equality for gays.
"I think that it is no secret that I am a fierce advocate for equality for gay and lesbian Americans," he said. "It is something that I have been consistent on, and I intend to continue to be consistent on during my presidency."