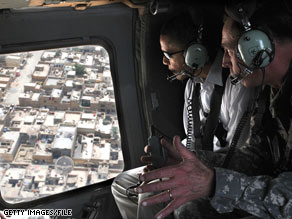 Gen. David Petraeus hosted then-Sen. Barack Obama on an aerial tour of Baghdad when Obama visited Iraq in July of this year.
WASHINGTON (CNN) - The military has prepared an initial plan for withdrawal from Iraq that meets the demands of the recent agreement with Iraq, but appears to contradict the wishes of President-elect Barack Obama.
Generals David Petraeus and Ray Odierno, the top commanders in Iraq, briefed Defense Secretary Robert Gates on plans for the withdrawal of the 146,000 troops in Iraq, when Gates visited the country last weekend.
In turn, Gates and Adm. Michael Mullen, chairman of the Joint Chiefs of Staff, informed Obama this week about "the way ahead in Iraq," Pentagon spokesman Geoff Morrell said Thursday.
That briefing was a "point of conversation" during the 5-1/2 hour national security team meeting Monday in Chicago, a senior military official said.
An Obama transition official confirmed that Mullen discussed the "current plans developed under President Bush."
Among those attending the meeting were Secretary of State nominee Hillary Clinton, Vice President-elect Joseph Biden and Gen. James Jones, Obama's choice for national security adviser.
The meeting covered a "whole range of topics," including Iraq, Afghanistan, Pakistan and the Middle East, the transition official said.
The current withdrawal plan proposes removing all U.S. combat troops from Iraqi urban areas in 2009, and all American troops from Iraq by 2011, in keeping with the recent Status of Forces Agreement, or SOFA, signed by President Bush, according to the senior military official.
The agreement with Iraq details withdrawals for 2009, 2010 and 2011, the official said. It proposes removing troops at a slower pace than Obama promised during the campaign, when he called for all combat troops to be out within 16 months - by the summer of 2010.
The senior military official said the current plan reflects the fact that Bush, who told the military to develop a plan consistent with SOFA, still is in charge. Obama might seek to speed up the troop withdrawal once he becomes president, the official explained.
The Obama transition official agreed, noting that there there "is only one commander-in-chief at a time" and that Gates and Mullen still work for Bush.
"Until the military gets different orders from the president, that is what they are working for," the transition official said.
The transition official noted that there is not much difference between the two plans and, in fact, the SOFA planning is more aggressive because it assumes all troops will be out by the end of 2011.
Obama has called only for combat troops to be out by mid-2010, with a residual force remaining behind to help train Iraqi troops, protect U.S. interests and conduct anti-terrorism missions.
While "there will need to be a discussion about SOFA" and some "tactical adjustments" when Obama takes office, "the reality is that they are on the same glide path," the transition official explained.
Gates told reporters at a press conference in early December that he was "agreeable" with Obama's time frame of 16 months for all combat troops.
"He (Obama) also talked about a responsible drawdown and that he was willing to listen to the commanders," Gates said early this month.
Morrell, the Pentagon spokesman, said current planning could change over time, depending on conditions in Iraq, and they could choose to "tear up that agreement and negotiate a new one for a longer period of time."
In an interview Wednesday on PBS' "Charlie Rose" show, Gates said it was possible troops could remain after 2011, but that it is up to the Iraqis.
"They are a sovereign country and if they tell us after the end of 2011, 'We want you all out,' I think we have no choice but to do that," Gates said.
"When I think of the support that they are likely to need for their air force, for the navy, for counterterrorism, for the continued training, for intelligence, for logistics and so on, my guess is that you're looking at perhaps several tens of thousands of American troops," Gates said, "but clearly in a very different role that we have played in the last five years."