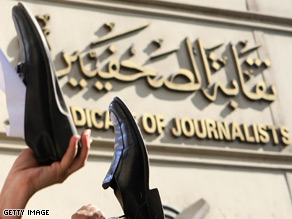 Sympathizers of Iraqi TV reporter Muntadhar al-Zaidi hold their shoes in the air while participating in a support rally.
BAGHDAD, Iraq (CNN) - The journalist who hurled his shoes at U.S. President George W. Bush has described his attack as "ugly" and asked the Iraqi government for leniency.
A government spokesman confirmed Thursday that Muntadhar al-Zaidi penned a contrite handwritten letter to Prime Minister Nuri al-Maliki requesting compassionate treatment.
Yaseen al-Majeed, the prime minister's media adviser and spokesman, read CNN part of the letter, saying al-Zaidi describes what he did as "the great ugly act I perpetrated" and says an excuse would not be enough for that.
Al-Zaidi said he recalled interviewing al-Maliki in 2005, and al-Maliki had said to him "come in, this is your home, too."
Al-Majeed told CNN al-Zaidi asked al-Maliki for that same "fatherly compassion." The letter was received on Thursday but it was written at another time, al-Majeed said.
Asked if al-Maliki would consider exonerating him, al-Majeed said it is too early to talk about that because the case remains with the judicial authorities.