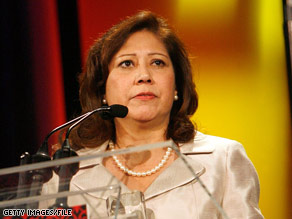 CNN has learned that Rep. Hilda Solis is President-elect Obama's choice for Secretary of Labor.
WASHINGTON (CNN) - President-elect Barack Obama has selected California Rep. Hilda Solis to serve as secretary of labor, a Washington-based labor official for a major union told CNN's John King Thursday.
Solis, a four-term Democrat from Los Angeles, is considered to be one of the most liberal members of the House. She served eight years in the California legislature and also worked in former President Jimmy Carter's administration.
Solis unseated former Rep. Matthew Martinez in a bitter Democratic primary in 2000.
Updated 2:15 p.m.