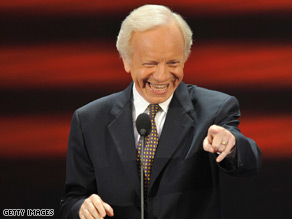 Lieberman may lose his committee chairmanship this week, as Senate Democrats meet on the issue.
(CNN) - Connecticut's Democratic Party is officially complaining to Sen. Joe Lieberman for backing Republican John McCain in this year's presidential race – but has decided against taking any tougher measures against him.
State party officials voted Wednesday night to send the senator a letter laying out their unhappiness with his decision, amid new polls that show the Democrat-turned-independent drawing record low approval ratings from constituents unhappy over his presidential pick and his continuing support for the Iraq war.
Lieberman himself, who remains a registered Democrat, retained his chairmanship of the Senate Homeland Security and Governmental Affairs Committee last month following a lengthy and often-heated debate over what — if any — price he should pay for his vocal support of McCain's presidential bid.
The former Democratic vice presidential candidate said then that a number of his Democratic colleagues in the Senate were moved by an appeal from Obama himself that "the nation now unite to confront our very serious problems…. This is all about going forward."
The decision from congressional Democrats came days after Republican Sen. Jon Kyl said the GOP would "welcome [Lieberman] with open arms" if he decided to bolt the Democratic caucus.