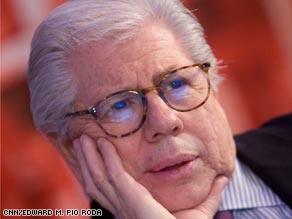 Carl Bernstein says Mark Felt's information on Watergate was absolutely invaluable.
(CNN) - Reporters Carl Bernstein and Bob Woodward relied on FBI insider W. Mark Felt as a reliable but anonymous source for their stories on the Watergate scandal that led to President Richard Nixon's resignation in 1974.
Felt, referred to as "Deep Throat" in the Washington Post stories and in Woodward and Bernstein's book "All the President's Men," died Thursday in California at 95. He revealed his identity for the first time in 2005.
Bernstein never met Felt until this year, but praised his courage during an interview Friday on CNN's "American Morning."