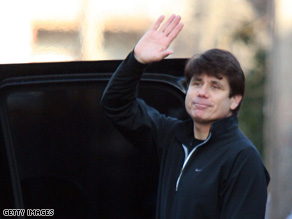 Embattled Illinois Gov. Rod Blagojevic is set to speak publicly Friday.
CHICAGO, Illinois (CNN) - Embattled Gov. Rod Blagojevich will give a statement Friday afternoon, his spokesman Lucio Guerrero said.
Guerrero said the governor - who has faced calls for his resignation since he was arrested on federal corruption charges on December 9 - will speak at the James R. Thompson Center state office building at 2 p.m. (3 p.m. ET) in downtown Chicago.
His attorney, Ed Genson, said Blagojevich will read the statement but will not answer reporter's questions. Genson he did not feel "it was prudent" for the governor to answer questions now.
The governor has not publicly addressed the charges, but told reporters Wednesday he "can't wait to begin to tell my side of the story."
Genson, has said the governor did nothing wrong and does not intend to step down.
Genson contends evidence obtained bugging phones of the Governor's office and home was "illegally obtained" and indicated he is ready to fight possible impeachment proceedings.
Federal prosecutors accuse the governor of trying to sell President-elect Barack Obama's former Senate seat. They also allege the governor and his former chief of staff, John Harris, were trying to have Chicago Tribune editorial board members fired by leveraging state assistance to the parent company of the newspaper, the Tribune Company, in its sale of Wrigley Field.
Harris, who was also arrested on federal corruption charges, resigned days later.
Members of an Illinois House of Representatives panel met Wednesday to continue their discussions about whether there is a basis to impeach Blagojevich.
Blagojevich's arrest has thrown Illinois politics into chaos. Many of the state's political leaders - including President-elect Barack Obama - have called on the governor to resign.
Updated 12:40 p.m.