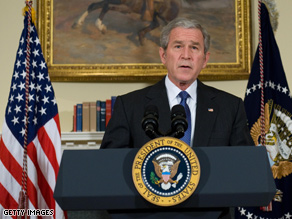 Bush announced an auto bailout plan Friday morning.
NEW YORK (CNNMoney.com) - President Bush announced a rescue plan for General Motors and Chrysler LLC Friday morning that will make $13.4 billion in federal loans available almost immediately.
A senior administration official briefing reporters said he expects that GM and Chrysler LLC will be signing the loan papers to access the cash later Friday morning.
The money will come from the $700 billion fund set aside to bailout Wall Street firms and banks in October.
With these loans, Treasury will have committed virtually all of the $350 billion of that fund that it can hand out without additional authorization from Congress. Once Congress releases the other $350 billion, the two automakers will be able to borrow an additional $4 billion.