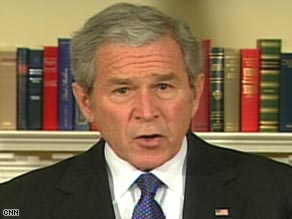 President Bush said Friday that automakers must show they can be profitable businesses by March 31.
(CNN) - The Bush Administration briefed President-elect Obama's transition team over the last several days about options the Treasury was considering for U.S. automakers, according to a transition aide not authorized to speak publicly, though the administration did not ask for Obama or his staff's approval or opinion on the package or any of its specifics.
The aide pointed out that Obama urged President Bush, in their Oval Office meeting after the election, to grant a short term loan to the auto industry on the condition that significant changes we made toward long term viability.