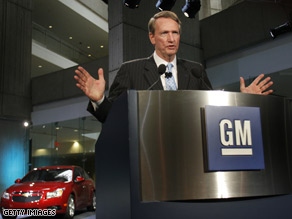 GM Chairman and CEO Rick Wagoner held a press conference Friday after news of the Bush administration's auto bailout plan was released.
- Senator George V. Voinovich, R-Ohio:
"The president has supplied oxygen to a patient fighting to get healthy through restructuring and becoming more competitive."
"While we are not out of the woods, there are millions of hard-working Americans today who can breathe easier this holiday season."
- Congressman Tom Price, R-Georgia:
"It is deeply disappointing that the administration has chosen to use taxpayer dollars to delay the inevitable need to fundamentally restructure these companies."
"By bailing out automakers without real reform or long-term solutions, we are only protracting uncertainty and putting billions of tax dollars at grave risk."
"It is now clear that the creation of TARP was a rueful mistake which has failed to provide urgent market stability, yet has put our country perilously in debt for the foreseeable future."
- Congressman John D. Dingell, D-Michigan:
"While I applaud President Bush's decision to provide short term loans to the domestic automakers, I have strong concerns about some of the conditions that were placed on these loans. We all want to see the Big 3 restructure and be competitive in the future, but it is irresponsible during a time of economic crisis for the White House to insist that workers take further wage cuts on top of the historic concessions they have already made."
"I strongly urge President-elect Obama to revisit this issue as his first priority upon being sworn in, and to ensure that assistance to the automakers is provided in a way that is fair to working Americans."
Watch: GM CEO Wagoner on Bush rescue plan
- General Motors statement:
"We appreciate the president extending a financial bridge at this most critical time for the U.S. auto industry and our nation's economy. This action helps to preserve many jobs, and supports the continued operation of GM and the many suppliers, dealers and small businesses across the country that depend on us."
"This will allow us to accelerate the completion of our aggressive restructuring plan for long-term, sustainable success."
- Chrysler LLC Chairman and CEO Bob Nardelli:
"We intend to be accountable for this loan, including meeting the specific requirements set forth by the government, and will continue to implement our plan for long-term viability."
On behalf of the men and women of Chrysler and its extended enterprise, he said he would like to thank the administration and Treasury for their confidence in the company.
- Ford Motor Company President and CEO Alan Mulally:
"As we told Congress, Ford is in a different position. We do not face a near-term liquidity issue, and we are not seeking short-term financial assistance from the government."
"But all of us at Ford appreciate the prudent step the administration has taken to address the near-term liquidity issues of GM and Chrysler. The U.S. auto industry is highly interdependent, and a failure of one of our competitors would have a ripple effect that could jeopardize millions of jobs and further damage the already weakened U.S. economy."