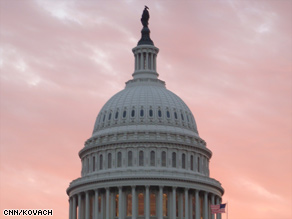 CNN: W. Mark Felt, 'Deep Throat' of Watergate, dead at 95
W. Mark Felt, who leaked information to reporters under the moniker, "Deep Throat," about the Watergate break-in, died Thursday at the age of 95, sources told CNN.
CNN: Caroline Kennedy's public campaign may box in Paterson
Caroline Kennedy is on a public campaign for Sen. Hillary Clinton's Senate seat, which may make it difficult for New York Gov. David Paterson not to send President John F. Kennedy's only living child to Washington.
CNN: Clinton Foundation reaches written agreement with Obama camp
In an effort to clear the way for Sen. Hillary Clinton's confirmation as secretary of state, CNN has learned that her husband's foundation has reached a written agreement with the Obama-Biden transition team.
CNN: MN high court rules on some rejected ballots
Minnesota's Supreme Court Thursday barred officials from including rejected absentee ballots in the recount of the state's hotly contested U.S. Senate race unless both of the candidates and elections officials agree the ballot was improperly rejected.
CNN: Kennedy meets with Sharpton in Harlem
Caroline Kennedy spoke publicly about her desire to fill Hillary Clinton's New York Senate seat for a second consecutive day Thursday, meeting with the Rev. Al Sharpton for lunch in Harlem.
CNN: Bloomberg declines to endorse Kennedy
New York City Mayor Michael Bloomberg declined Thursday to endorse Caroline Kennedy as Hillary Clinton's successor, but added that he knows "exactly" who should be the next senator to represent his state.
But he wouldn't give a name.

CNN: Landrieu and Snowe to make history in next Congress
Sen. Hillary Clinton, D-New York, may have fallen short of breaking the ultimate glass ceiling in American politics, but two of her fellow female senators will make history next year.
CNN: Plans for U.S. combat troops in Iraq could change under Obama
The military has prepared an initial plan for withdrawal from Iraq that meets the demands of the recent agreement with Iraq, but appears to contradict the wishes of President-elect Barack Obama.
CNN: Mayors' infrastructure request full of pork, critic says
A report to Congress that requests $73.2 billion to pay for infrastructure projects around the country includes plans for a polar bear exhibit, an anti-prostitution program, a water park ride, zoos, museums and aquatic centers, CNN has found.
CNN: Source: Obama picks Hilda Solis to head Labor Dept.
President-elect Barack Obama has selected California Rep. Hilda Solis to serve as secretary of labor, a Washington-based labor official for a major union told CNN's John King Thursday.
CNN: Shoe-thrower asks for leniency
The journalist who hurled his shoes at U.S. President George W. Bush has described his attack as "ugly" and asked the Iraqi government for leniency.
WSJ: The Presidential Pickup Game
With the naming of 'the best basketball-playing cabinet in American history,' hoops madness is hitting Washington. But don't count out the bowling lobby.
Washington Times: Extra police help for inauguration limited
The roughly 4,000 police officers coming to the District to help with an expected Inauguration Day crowd of more than 1 million are punching out when the official events are over – leaving the Metropolitan Police Department in charge of monitoring visitors partying until the extended 4 a.m. last call.