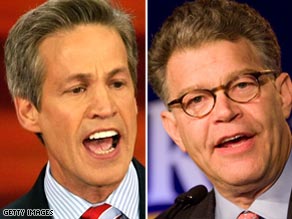 The recount of Minnesota's Senate race between Republican Sen. Norm Coleman, left, and Democrat Al Franken will stretch into next year.
Minnesota's Supreme Court has approved a request by the campaigns of incumbent Republican Sen. Norm Coleman and Democratic challenger Al Franken to extend the deadline local election officials and the two campaigns have to finish sorting through improperly rejected absentee ballots to January 2, from the previous deadline of 31.
The canvassing board will have until January 4 to count the ballots, which will be delivered to the state unopened and uncounted, for voter privacy purposes.
That date doesn't mark the race's finish line: Both campaigns would still be able to challenge the state's count beginning the next day.