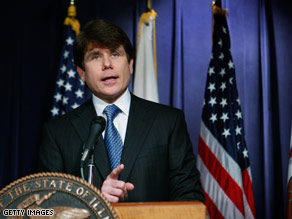 Blagojevich, facing record low approval ratings in Illinois, tops at least one political poll this month.
(CNN) - Which politician should be top Santa's naughty list this year? If the American public had anything to say about it, Rod Blagojevich would beat out John Edwards and Eliot Spitzer for the title of the naughtiest politician of 2008.
Asked which political figure deserved a lump of coal this Christmas, the scandal-scarred Blagojevich was picked by more Americans than the other two candidates combined.
Nineteen percent thought that Edwards, who admitted cheating on his wife during his presidential bid, was the naughtiest. And 23 percent thought that Spitzer, who resigned as New York's government amid a call-girl scandal, should get the nod.
But 56 percent said that Blagojevich, who has been arrested on corruption charges, was the naughtiest pol in 2008.