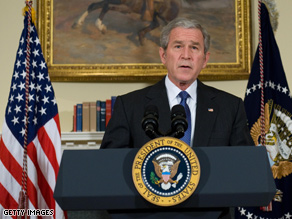 Earlier this week, Bush ordered 19 presidential pardons.
(CNN) - President George W. Bush on Wednesday ordered one of 19 presidential pardons announced earlier in the week to be re-examined before a final decision on clemency is made.
The pardon was to go to Isaac R. Toussie, 36, who had been convicted of mail fraud and issuing false statements to the Department of Housing and Urban Development.
According to a senior administration official, the White House learned new information about Toussie's case Tuesday night - only hours after announcing his pardon.
Specifically, the White House learned, according to the official, "additional information about the nature of fraud (Toussie) carried out." The White House also learned that Toussie's father had made numerous contributions to leading Republican politicians.
In 2008, Toussie's father donated almost $40,000 to Arizona Sen. John McCain, Minnesota Sen. Norm Coleman, Oregon Sen. Gordon Smith, and Virginia Rep. Eric Cantor.
"Based on information that has subsequently come to light, the president has directed the (Justice Department's) pardon attorney not to execute and deliver a grant of clemency to Mr. Toussie," White House Press Secretary Dana Perino said in a written statement.
"The pardon attorney has not provided a recommendation on Mr. Toussie's case because it was filed less than five years from completion of his sentence. The president believes that the pardon attorney should have an opportunity to review this case before a decision on clemency is made."
Under Justice Department guidelines, an application for a presidential pardon will not be considered by the department's pardon attorney until a convict has been out of prison for five years.
Toussie was sentenced in September 2003 to a five-month prison sentence, as well as three years of supervised release.
CNN's attempts to reach Toussie's lawyers have been unsuccessful.
Full story

(updated 5:15 p.m. with additional information)