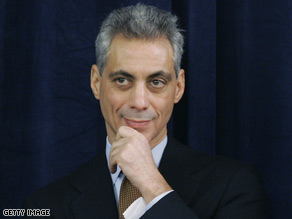 Gov. Blagojevich's attorney urged the Illinois House panel to issue a subpoena to Barack Obama's Chief of Staff Rahm Emanuel.
(CNN) – The Illinois House panel considering impeachment charges against Gov. Rod Blagojevich has received a letter from the governor's attorney urging the panel to issue subpoenas to more than a dozen potential witnesses, including incoming White House Chief of Staff Rahm Emanuel.
Steve Brown, spokesman for Illinois House Speaker Michael Madigan, confirms to CNN that the impeachment panel received the letter from Blagojevich attorney Ed Genson.
"The committee has taken that letter under advisement," said Brown, noting the panel's next meeting is Monday morning.
Even if the panel moved ahead with such subpoenas, however, they could still be blocked by prosecutor Patrick Fitzgerald, who has previously expressed concern about the impeachment panel interfering with his ongoing criminal probe.
Nevertheless, the maneuvering by Blagojevich's camp could provide a distraction for President-elect Barack Obama and top aides just days after they tried to turn the page on the matter by issing an internal investigation claiming no wrongdoing by the transition team.
Genson, Blagojevich's attorney, did not immediately return a call seeking comment on his letter.