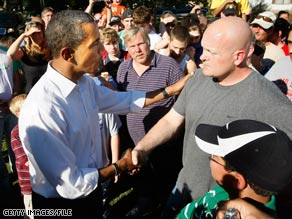 Then-Sen. Obama's chance meeting with an Ohio plumber in October became a symbol for the battle for working- and middle class voters.
NEW YORK (CNNMoney.com) - For many cash-strapped workers, Barack Obama's plan to stimulate the economy could mean more take-home money in their paychecks.
While details remain unclear, the president-elect's recovery proposal is likely to include a tax cut to boost spending. Exactly how much of a break that could mean for workers depends on how the tax cut is structured.
But back-of-the-envelope calculations suggest in some scenarios it could be anywhere from an extra $83 to $166 per paycheck during the first quarter of the year.
David Axelrod, a top adviser to Obama speaking Sunday on NBC's "Meet the Press," said Obama had promised a middle class tax cut and that his economic recovery package will include "a portion of a tax cut that will become part of the permanent tax cut he'll have in his upcoming budget."
Click here to read the full story on CNNMoney.com