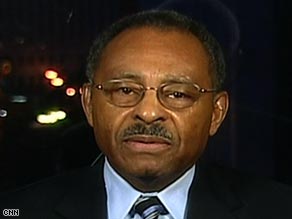 Roland Burris said Gov. Rod Blagojevich is innocent until proven guilty.
(CNN) - The man appointed by embattled Illinois Gov. Rod Blagojevich to fill President-elect Barack Obama's Senate seat said Wednesday his appointment to the position is legal, despite the charges against the governor.
WATCH: Burris on American Morning
Former Illinois Attorney Gen. Roland Burris said Blagojevich is innocent until proven guilty, even though his behavior "is reprehensible."
"I don't look upon the governor's problems as my problems. I look at the governor's problems as his problems," Burris said.
Blagojevich faces allegations of influence peddling, among other charges.
The governor, a Democrat, on Tuesday named Burris to serve the last two years of Obama's Senate term.
Obama said Tuesday it is disappointing that Blagojevich ignored warnings from Senate Democrats about appointing a successor to his Senate seat.
Senate Democratic leaders have said they will block the appointment and are urging the governor to step down after his arrest on corruption charges - a move Obama endorsed.
"Roland Burris is a good man and a fine public servant, but the Senate Democrats made it clear weeks ago that they cannot accept an appointment made by a governor who is accused of selling this very Senate seat," Obama said in a statement.
"I agree with their decision, and it is extremely disappointing that Gov. Blagojevich has chosen to ignore it."