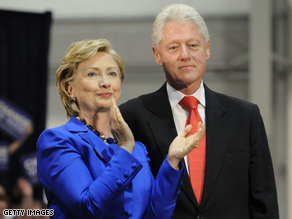 2008 didn't go quite as planned for either Clinton.
(CNN) - Bill and Hillary Clinton will celebrate the end of the year in the heart of a city just as happy as they are to see the tail end of 2008, joining New York City Mayor Michael Bloomberg to watch the crystal ball drop in Times Square tonight.
The former president and the secretary of state-designate share more with the mayor than an adopted hometown: former Clinton communications director Howard Wolfson has signed on to advise Bloomberg during his re-election bid.
Neither Clinton has ever endorsed Bloomberg, who was often a Wolfson target during past election cycles.