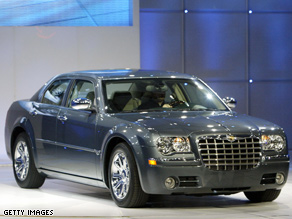 A Chrysler 300C, like the one Obama drove before his campaign.
NEW YORK (Fortune) - One of the least explored personal sides to our new president is the amount of gasoline in his veins. We know all about his affection for the basketball court and his tendency every now and then to sneak out for a cigarette. But we've heard very little about what drove him to acquire one of the least politically-correct cars on the planet: a Chrysler 300C. With its high torque and horsepower, voracious appetite for fuel and gangsta car persona, it is hardly the kind of vehicle you'd expect a consensus-building politician to drive. But those are Obama's wheels.
Or were. During the campaign he sold the 300C in favor of a hybrid Ford Escape, and as president of the United States, he won't be getting into the driver's seat very often – unless he's at a military base or some other secure location where he can let loose. He'll be spending all his time in the back seat of an armor-plated Cadillac.