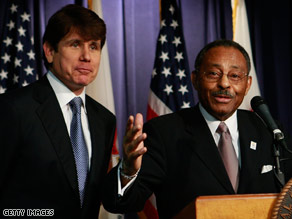 Gov. Rod Blagojevich announced Roland Burris as his pick for Illinois' open Senate seat on Tuesday.
(CNN) - Gov. Rod Blagojevich's pick of a prominent African-American to succeed Barack Obama in the Senate has led to suggestions that the move is calculated, but the governor says he's just doing his job.
Blagojevich on Tuesday announced he'd appointed former Illinois Attorney General Roland Burris to replace Obama in the Senate, ignoring warnings from Senate Democrats who say they will block anyone he appoints.
Obama said Tuesday that he agrees with the Senate Democrats' decision to block an appointment by Blagojevich, but it's unclear if the Senate has the right to do so.
FBI agents arrested the governor on December 9 after federal prosecutors alleged, among other things, that he had tried to sell Obama's former Senate seat. Blagojevich denies wrongdoing and has ignored calls to resign.
Blagojevich's announcement left observers asking - whether the governor was playing a game of racial "chicken," daring Senate Democrats to snub a respected African-American.
Conservative radio host Larry Elder said race was clearly a part of Blagojevich's plan.
"What he has done is this: He's chosen a black person and dared the Democratic Senate not to seat him because there would then be no black senators in the Senate whatsoever.
"I'm not saying that the former attorney general isn't a man of integrity and wouldn't otherwise, in his own right, be able to serve competently as a senator.
"But you don't have to be a cynic to understand that race was part of Blagojevich was doing right here," he said.