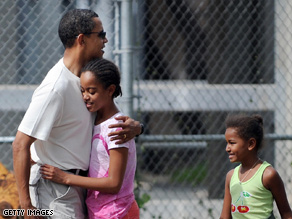 The Obama family (above: the president-elect with daughters Malia and Sasha) will have a quiet New Year's celebration as their vacation draws to a close.
(CNN) - President-elect Barack Obama will ring in the New Year quietly at the rental home in Hawaii, according to transition spokesman Ben LaBolt. "The Obama family is staying in Kailua, celebrating with friends," LaBolt said, referring to he part of the island of Oahu where the family has been staying for nearly two weeks.
The Obamas are planning to move into a DC hotel this weekend.