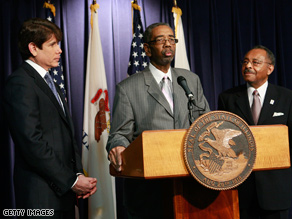 Rush spoke at Blagojevich's press conference revealing the Burris pick.
(CNN) - A day after warning critics of Roland Burris's Senate appointment not to "hang or lynch" the former Illinois attorney general, Chicago congressman Bobby Rush said Democrats opposing Gov. Rod Blagojevich's move to fill the open seat risk finding themselves "in the same position" as segregation-era figures Bull Connor and George Wallace.
"You know, the recent history of our nation has shown us that sometimes there could be individuals and there could be situations where schoolchildren - where you have officials standing in the doorway of schoolchildren," Rush told CBS Wednesday morning. "You know, I'm talking about all of us back in 1957 in Little Rock, Ark. I'm talking about George Wallace, Bull Connor and I'm sure that the U.S. Senate don't want to see themselves placed in the same position."
Rush told CNN Tuesday that the lack of African-Americans in the Senate was "a moral outrage" that "should make most fair-minded Americans very, very angry."
Watch: This is a good decision,' says Rush

Congressional Democratic leadership said Tuesday they will oppose seating any candidate appointed by the scandal-scarred Illinois governor to fill the remainder of President-elect Barack Obama's Senate term.
It is unclear whether the Senate – which can refuse to seat any incoming lawmaker that they believe was not properly elected or appointed – has the legal standing to block the selection of a sitting governor.
Rush said Wednesday that Blagojevich's opponents "need to take a chill pill."
"We're still a nation of laws and I believe that Roland Burris and Gov. Blagojevich, they're on solid constitutional grounds" in his selection, he said. "I think the U.S. Senate will have to accept him."
It was the second day of racially-charged comments from Rush backing the embattled governor's decision to appoint Burris, a former Illinois attorney general. If he were seated, Burris would be the only African-American senator to serve in the next Congress.
"I would ask you to not hang or lynch the appointee as you try to castigate the appointer," Rush said at the Tuesday press conference where Blagojevich announced the selection of Burris.
President-elect Obama has said he opposes the seating of any candidate selected by Blagojevich to fill his Senate seat.