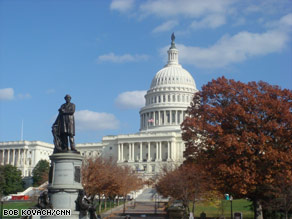 Simple math says Democrats are more likely get caught up in a scandal, Carville says.
WASHINGTON (CNN) - You know, people will insist that 2008 had 366 days. I don't believe it. I think it had 36,066 days.
It certainly felt much longer than any year that I've ever experienced. Only time will tell what's in store for us in 2009, but first I have a few predictions.
Internationally, I believe there will be a peace agreement between Israel and Syria in the next 18 months. It is something that will be a priority for the incoming Obama administration.
In domestic politics, my first prediction is one that pains me to make, but I'll make it anyway.
The Democratic Party has had a recent run of corruption and sex scandals. Mathematicians say that there are no such things as streaks and that the last event has nothing to do with the next. The only people who disagree are crapshooters and political operatives. Since I am both, I firmly believe that there are streaks and that political scandals happen in clusters.