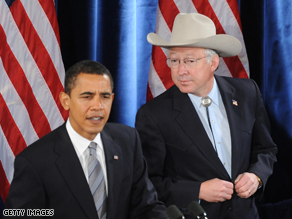 Obama tapped Salazar for interior secretary.
(CNN) - Denver Public Schools Superintendent Michael Bennet is Colorado Gov. Bill Ritter's pick to replace Sen. Ken Salazar, according to several media reports.
Ritter is expected to name Bennet to the position on Saturday, according to Denver media outlets.
Salazar, a first term senator, is President-elect Barack Obama's choice to be Interior Secretary and is expected to easily be confirmed by the Senate.
Ritter had narrowed down his choice to either Bennet or the popular Denver mayor John Hickenlooper, and made his final decision on New Years Day, according to the reports.
Ritter's office would not confirm the report to CNN.
UPDATE: Ritter's office has announced the Governor will name his Senate choice Saturday in a 4 p.m. ET news conference.