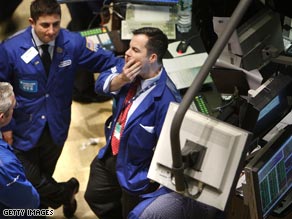 President-elect Obama is rolling out his plan to stimulate the struggling economy.
NEW YORK (CNNMoney.com) - President-elect Barack Obama was set Monday to begin the push for a massive package of tax cuts and spending proposals aimed at reviving an economy mired in recession.
Obama will meet with top legislators from both parties including House Speaker Nancy Pelosi, D-Calif., and Senate Majority Leader Harry Reid, D-Nev., as well as Senate Minority Leader Mitch McConnell, R-Ky., and House Minority Leader John Boehner, R-Ohio.
The plan will include about $300 billion in tax cuts for individuals and businesses, an aide to the transition told CNN. Obama has not publicly put a price tag on his overall stimulus plan, though his advisers have said they expect it to fall between $675 billion and $775 billion, 40% of which would be in tax cuts.