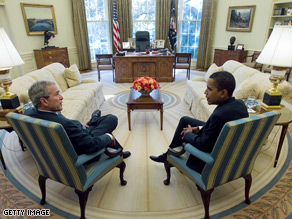 Jimmy Carter, George H. W. Bush, and Bill Clinton will meet with Barack Obama and President Bush for a private gathering in the Oval Office.
(CNN) –- Talk about a power lunch. President Bush, President-elect Barack Obama and three living former presidents will meet in the Oval Office for a private gathering on Wednesday afternoon.
Former presidents Jimmy Carter, George Herbert Walker Bush and Bill Clinton will join Obama and Bush at the White House for lunch. Obama initially came up with the idea that all of the men get together after meeting with President Bush last month.
White House Spokeswoman Dana Perino said the current and former leaders will gather for a photo op in the Rose Garden, but that their conversation and meal will be private. She said she doesn't know what they will talk about, but she said she'd love to be able to hear it.
"I'm sure all of us would love to be flies on the wall and listening to that conversation," Perino said during Tuesday's daily press briefing. "These are leaders who only understand what it's like to be in each others shoes and none of us can put ourselves in those shoes."
Perino speculated that they will discuss what it's like to raise children in the White House and how to protect them. She praised the Obamas for doing a good job with that so far and said they got their daughters to their first day of school on Monday "in good fashion."
Perino said the last time all of the living presidents got together was in 1981, and called Wednesday's meeting a "historic moment."