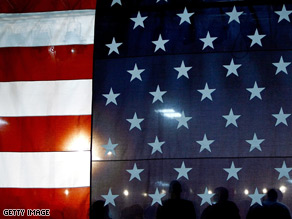 The RNC's Conservative Steering Committee will not vote on which candidate for chairman is the most conservative.
WASHINGTON (CNN) – Select members of the Republican National Committee voted Tuesday not to hold a straw poll to determine which of the candidates for party chairman are conservative enough to run the organization.
Members of the RNC's Conservative Steering Committee had originally planned to vote on which of the candidates for chairman were the most conservative, after holding a series of 30-minute interviews with each Republican hopeful.
But that plan was voted down by the roughly 50 committee members who participated the closed-door session, according to several people in the meeting. The steering committee will now conclude the day by holding a roundtable discussion about each of the candidates.
One member present for the vote said the motion to remove the straw poll was raised by supporters of former Maryland Lt. Gov Michael Steele.
Canceling the straw poll removes a potential hurdle for Steele, who shone at a candidate forum on Monday but is seen as the most moderate among the Republicans seeking the post and might have faltered in a survey of the more rigidly conservative RNC members.
The straw poll was seen as advantageous to the incumbent chairman Mike Duncan, who has long-standing relationships with many of the members gathered Tuesday, and possibly former Ohio Secretary of State Ken Blackwell, a favorite among social conservatives.
The object of Tuesday's meeting in Washington "is to try to get a sense of which are the acceptable conservative candidates among the seven that are running," steering committee leader James Bopp, Jr. said before the meetings began. "I expect there to be several candidates, maybe all of them, who will be found to be acceptable. And that would be a good thing."
The meeting comes one day after six of the seven candidates discussed the future of the party before reporters, national committee members and television cameras at a mostly cordial debate hosted by Americans for Tax Reform.
The candidates for chairman include Duncan, Steele, Blackwell, South Carolina GOP chairman Katon Dawson, former Tennessee GOP chair Chip Saltsman, and Michigan GOP leader Saul Anuzis.
The Conservative Steering Committee is made up of 94 members of the larger 168-member RNC, according to Bopp. Although not all of the conservative members are present in Washington to press the candidates, several are joining the program via conference call and had been scheduled to vote in the straw poll by e-mailing Bopp.
The candidates for the chairmanship will have a chance to make yet another pitch to a larger special session of the RNC on Wednesday, a meeting that was called by national committee members who wanted their own chance to question candidates after the conservatives-only meeting was announced in December.
Bopp defended Tuesday's meeting of the conservative members, a gathering he described as "informal."
"I don't see why they should feel excluded," he said. "Part of freedom in America is for private individuals to be able to meet together on issues of common concern."