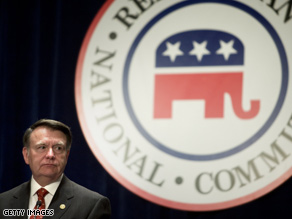 Mike Duncan, the current RNC chairman, is fighting to stay despite GOP election losses.
WASHINGTON (CNN) - A fresh, invigorating appeal to voters. That's the challenge Republicans face as they set out to pick a new leader for a party driven into the wilderness after a disappointing 2008 general election.
But which candidate's philosophy will convince the party faithful of a revival? Some say whomever can embrace new approaches employed by Democrats this year will not only win out but will bring the party back to a majority in government.
On Monday, six candidates for the position discussed the future of the party at a televised debate at the National Press Club in Washington hosted by Grover Norquist's group, Americans for Tax Reform.
The ultimate winner will be decided by the 168 Republican National Committee members at the annual winter meeting January 20.
Republicans, however, will need to realize they are going to be in the wilderness for a while, according to Ed Rollins, a longtime GOP strategist.
"The country needs an opposition party, and you're it. Along with the Republican governors, you are going to have to cobble together the concepts and solutions that will attract voters back to our party," he said.