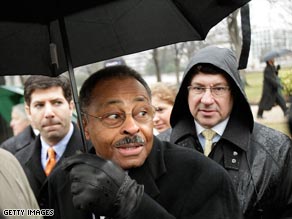 Former Illinois Attorney General Roland Burris makes his way to the Capitol on Tuesday.
(CNN) - As Roland Burris gets set to press the Senate Democratic leadership to formally seat him in the chamber Wednesday, a new national poll shows the majority of Americans think the former Illinois attorney general should be blocked from serving.
According to a new USA/Today Gallup poll, 52 percent of Americans think President-elect Barack Obama's successor should instead be decided by a special election, while 23 percent think the second Illinois senate seat should remain open until the charges surrounding Illinois Gov. Rod Blagojevich are resolved.
Only 16 percent said Burris should currently be allowed to assume the seat.