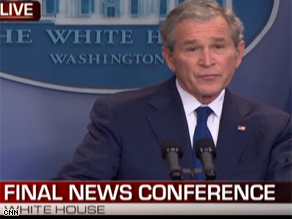 President Bush is holding his last press conference.
WASHINGTON (CNN) - President Bush said Monday that a "sustainable cease-fire" in Gaza could only be accomplished when "Hamas stops firing rockets into Israel."
Bush said that the "choice is Hamas's to make." He also stated that the best way to get a sustainable cease-fire is to "work with Egypt to stop the smuggling of arms into... Gaza.
"Countries that supply weapons to Hamas have got to stop," Bush said.
Watch the event on CNN.com/live