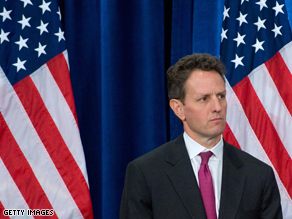 Geithner is Obama's choice for Treasury Secretary.
(CNN) - Arizona Sen. Jon Kyl, a member of the Senate Finance Committee, has raised an objection to holding Treasury Secretary-designate Timothy Geithner's confirmation hearing Friday as planned, a spokesman for the senator tells CNN.
Kyl's objection comes a day after it was revealed Geithner had failed to pay necessary self-employment taxes while working for the IMF and continued to employ a housekeeper whose immigration status had expired.
The hearing is now scheduled for next Wednesday.