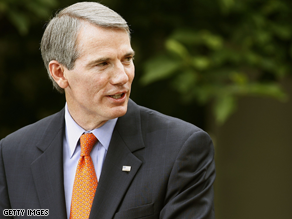 Portman is running for Senate in Ohio.
WASHINGTON (CNN) - Rob Portman announced Wednesday he's running for the soon-to-be vacant Senate seat from Ohio, three days after fellow Republican Senator George Voinovich announced he would retire rather than run for re-election when his term ends in 2010.
Portman was a southern Ohio congressman for 12 years before joining the Bush administration as U.S. Trade Representative and budget director.
Related: Senate Republicans brace for ominous 2010
"My heart is in public service," Portman said in a widely-expected statement released by his campaign. "Just as it was an honor to serve the people of Southern Ohio in the U.S. House of Representatives for 12 years, so it would be an honor to serve all Ohioans in the U.S. Senate. At a difficult time in our state and national economy, I believe I can make a positive difference in the lives of people throughout Ohio."
Voinovich won re-election to his Senate seat by 18 points in 2004. But Democrats have since had success in Ohio, winning two statewide races in 2006. Republican Sen. Mike DeWine was ousted by Democratic congressman Sherrod Brown, and the Democrats took back the governor's office as Rep. Ted Strickland overwhelmingly defeated former GOP secretary of state Ken Blackwell. And this past November, Barack Obama won the state by 4 points over John McCain in the presidential election.
Recent Democratic success is likely linked to tough economic times in Ohio. Portman gave a nod to the state's "economy is in crisis" and pledging "common-sense policies and innovative solutions that will bring jobs and opportunities back to Ohio."
The election may be more than a year-and-a-half away, but Portman's early move is strategic: The 52-year-old candidate has strong fundraising credentials, and is expected to easily raise the money needed to run statewide in Ohio. Today's announcement move may dissuade potential Republican rivals from jumping into the race for GOP nomination.
He may be an overwhelming favorite in his own party, but Democrats feel Portman is beatable - politically vulnerable because of his ties to the Bush administration.