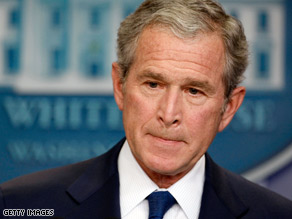 Pres. Bush will make a prime-time address to the nation on Thursday night.
WASHINGTON (CNN) - George W. Bush will make his last public appearance as president Thursday in a prime-time television speech, his spokeswoman said.
Related video: Watch Bush's final press conference
The president's address, slated to run between 10 and 15 minutes, will be delivered at 8 p.m. in front of an invited audience with "stories to tell," according to White House spokeswoman Dana Perino.
The presidential farewell address is a tradition dating back to George Washington's departure from office in 1797. Presidents Eisenhower, Reagan, Carter and Clinton - among others - all delivered farewell speeches.
Bush leaves office with about one in four Americans approving of the job he is doing. A CNN/Opinion Research Corporation poll taken Dec. 19-21 found 27 percent approved of his performance, while 72 percent disapproved. Just over one in four rated him the worst president ever. Another 40 percent rated him "poor," while 31 percent rated him a "good" president. The survey has a margin of error of plus or minus three points.
Bush brushed off the low opinion-ratings and declining polls when he spoke to CNN's Larry King on Tuesday.
"Look, opinion polls are nothing but a shot of yesterday's news," he said. "Opinion polls aren't going to be high when the economy is in the tank. People aren't happy with the economy. Neither am I. But you can't make decisions based on popularity polls."
The outgoing president offered a self-assessment of his leadership in national security post-9/11.
"I told the American people I wouldn't tire and I wouldn't falter, and I
haven't," Bush said.
Bush is planning to spend the weekend at Camp David, the presidential retreat, Perino said, before his term ends at noon of Tuesday with the swearing-in of Barack Obama as the country's 44th president.