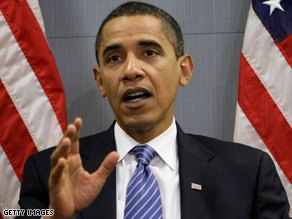 Barack Obama says his plan will immediately help the economy recover.
(CNN) - President-elect Barack Obama heads to Ohio on Friday as he tries to sell his economic stimulus package, a plan he says will immediately help jump-start the economy.
Obama will meet with workers at a factory in Bedford Heights, where he'll discuss the "American Recovery and Reinvestment Plan." Obama says the proposal will save or create up to 4 million jobs and invest in health care, energy and education, among other priorities.
The president-elect has yet to put a price tag on his recovery package, but observers have estimated it would be in the neighborhood of $800 billion.
While in Bedford Heights, Obama will sit down with CNN's John King for an exclusive interview.
The interview will air Friday at 6 p.m. on "The Situation Room," which begins at 4 p.m. ET.
King will ask Obama about issues he will face in the first days of his administration, including the economy and national security.